Dear Clients, Soon-to-Be-Clients and friends,
Well, it looks like the party's over. The S&P 500 has plunged through several levels of support. Take a look. Here's the chart.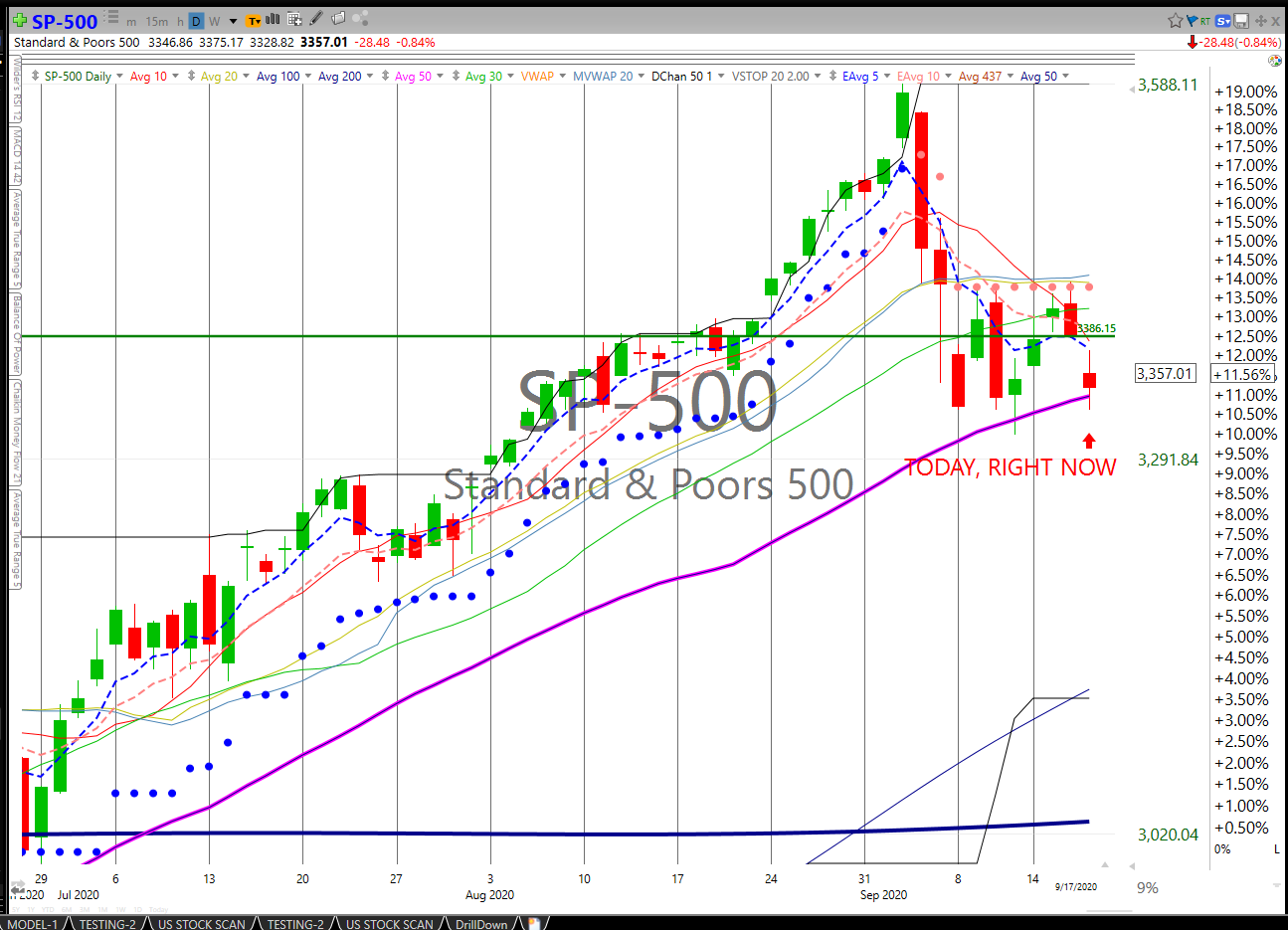 This chart shows the S&P when it was 3,332. Now, as I write, it sits uncomfortably at 3,319, down 1.12%. The DOW is down .88%. The Nasdaq has plunged 1.30%.
Yesterday, we took steps to protect our client portfolios. We have experienced extraordinary gains in our growth portfolios, but believe that the market is steadily approaching a strong market downturn. Therefore, we bought a rather significant position for all accounts in SQQQ, which gives us 3x the inverse of the QQQ (the Nasdaq). Thus, right now, the Nasdaq is down 1.30%. Our SQQQ position is up 4.01% on the day.
That gain will shield losses in long positions.
You might ask why we haven't bailed on long positions. Well, we did flush out all positions in TQQQ (a long position 3x the gain in the QQQ). Also, you might have noticed that over the past week, we have taken profits on some long positions to protect your gains and to raise enough cash to take on the SQQQ short position yesterday.
But getting out of long positions can often be the wrong move. The markets have a nasty habit of forming what are called "whiplashes." They can drop, and make everyone's gut drop, and then turn back up on a dime. Those who've exited must then scramble to get back in.  
So, we prefer to use our system of basically neutralizing any gains or losses in turbulent stock markets. It has worked in the past. It will work in the future.
It's hard to say where the markets will go from here. All three main indexes have built out chart patterns known as "Head & Shoulders" (not the shampoo!). These structures are always bearish and point to a decline of about 10%. The S&P could hit 3,000.
The key thing though is this: We are watching. We are ready to move when our indicators tell us to. We are using our discipline, and, we think, that's why you want us to do what we do. It is extremely hard for an individual investor to have a system and truly stick to it.
So, sit back. Relax. Watch the elections unfold. They should provide quite a show. We do have some opinions on the impact the elections might have on the markets. Watch your inbox. We'll send an election update soon.
 Cordially yours,
 Jack Reutemann