How Are Your Investments Doing Lately?  Receive A Free, No-Obligation 2nd Opinion On Your Investment Portfolio >
Little Drummer Girl
On this Valentine's Day, we often find the feeling of this special day in relationships between people so different you'd never imagine a relationship ever forming.
This is one of those stories you often receive in emails with the admonition:
      ​Must watch!
Many of those can make your day. We hope this one helps to send a Valentine's message to you from all of us at RFS..
Ten-year-old Nandi Bushell hails from Ipswich, England—half a world away from her idol, Dave Grohl, world-famous drummer for the band Nirvana and the one he founded, Foo Fighters.
Sold-out concerts, hit records, and the Rock & Roll Hall of Fame—these make Dave's resume shine. Nandi plays in her basement.
If you haven't noticed, kids these days think Rock & Roll belongs only to those Old Boomers, a generation whose time has come. But don't tell that to little Nandi. Rock & Roll is her life.
The pandemic cooped her up. But she worked and worked at her drumming craft and began to post videos of herself and her drum on YouTube. One day she recorded her "cover" of Dave Grohl's biggest hit, a song called Everlong, first released in 1997, long before Nandi was born.
As the video began, she twirled her stick, stared straight into the camera, and issued her challenge:
      ​"Dave Grohl, I challenge you to a drum off!"
Asked why she challenged an icon, Nandi's logic was refreshingly simple:
      "He's a drummer, he thrashes the kit really hard, which I like, so why not? My dream is to one day jam with Dave Grohl."
When the video started to go viral, Dave Grohl's phone blew up with texts.
      "You've been called out by a 10-year old, Dave. What are you going to do about it?"
Most famous Hollywood types would smile, pat themselves on the back, and go on with their glimmering lives.
But not Dave. He went about recording his own video, where he said:
      "Nandi, I've gotten at least 100 texts from people all around the world saying, 'This girl is challenging you to a drum-off.'
      ​You're an incredible drummer! I'm really flattered that you've picked some of my songs to do for your videos, and you've done them all            perfectly. So today, I'm going to give you something you may never have heard before. This is my response to your challenge—so now          the ball is in your court!"
​Nandi watched the video, listened to Grohl's song—and two days later, recorded her own rendition of it, saying:
      ​"Dave Grohl, that was epic! It's an honor to battle you!"
A friendship then blossomed. Dave and Nandi started meeting on Zoom. He then told her he was writing a new song just for her:
      ​"She's got the power / She's got the sound / Nandi on the drums makes the world go round!"
Not to be outdone, Nandi wrote her own song, titled "Rock and Grohl":
      ​"Rock n' roll's my love / Rock n' roll's my soul / Rock n' Grohl will help me change the world!"
Whatever kind of music you listen to, it's impossible not to smile when you see these two very different people—with kindred souls—come together over the instrument they love. Their videos have now been watched by millions of people, and the two have made plans for Nandi to realize her dream and play with the Foo Fighters onstage as soon as the pandemic is over.
According to Grohl:
      ​"There's something about seeing the joy and energy of a kid in love with an instrument, She's a force of nature. But [she'll have to play]           at the end of [our concert] because she's going to steal the show!"
A force of nature, indeed.
Here's the Little Drummer Girl. Watch and enjoy. So far, 3,901,493 people already have.
https://www.youtube.com/watch?v=MRvHI8tgx8A
Have a wonderful Valentine's Day.
With best wishes,
Research Financial Strategies
Most Popular Financial Stories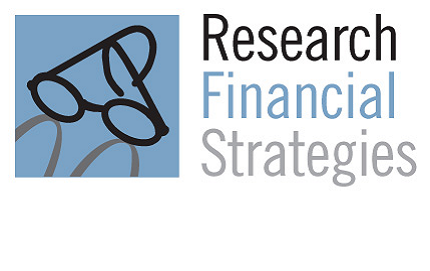 We closed out the QQQ (NASDAQ 100 ETF) long/short positions yesterday.  This morning we just sold RSP, ROBO and UBOT due to weakness in their respective sectors.  We are...
read more
Investment advice offered through Research Financial Strategies, a registered investment advisor.
* This newsletter and commentary expressed should not be construed as investment advice.
* Government bonds and Treasury Bills are guaranteed by the U.S. government as to the timely payment of principal and interest and, if held to maturity, offer a fixed rate of return and fixed principal value.  However, the value of fund shares is not guaranteed and will fluctuate.
* Corporate bonds are considered higher risk than government bonds but normally offer a higher yield and are subject to market, interest rate and credit risk as well as additional risks based on the quality of issuer coupon rate, price, yield, maturity, and redemption features.
* The Standard & Poor's 500 (S&P 500) is an unmanaged group of securities considered to be representative of the stock market in general. You cannot invest directly in this index.
* All indexes referenced are unmanaged. The volatility of indexes could be materially different from that of a client's portfolio. Unmanaged index returns do not reflect fees, expenses, or sales charges. Index performance is not indicative of the performance of any investment. You cannot invest directly in an index.
* The Dow Jones Global ex-U.S. Index covers approximately 95% of the market capitalization of the 45 developed and emerging countries included in the Index.
* The 10-year Treasury Note represents debt owed by the United States Treasury to the public. Since the U.S. Government is seen as a risk-free borrower, investors use the 10-year Treasury Note as a benchmark for the long-term bond market.
* Gold represents the afternoon gold price as reported by the London Bullion Market Association. The gold price is set twice daily by the London Gold Fixing Company at 10:30 and 15:00 and is expressed in U.S. dollars per fine troy ounce.
* The Bloomberg Commodity Index is designed to be a highly liquid and diversified benchmark for the commodity futures market. The Index is composed of futures contracts on 19 physical commodities and was launched on July 14, 1998.
* The DJ Equity All REIT Total Return Index measures the total return performance of the equity subcategory of the Real Estate Investment Trust (REIT) industry as calculated by Dow Jones.
* The Dow Jones Industrial Average (DJIA), commonly known as "The Dow," is an index representing 30 stock of companies maintained and reviewed by the editors of The Wall Street Journal.
* The NASDAQ Composite is an unmanaged index of securities traded on the NASDAQ system.
* International investing involves special risks such as currency fluctuation and political instability and may not be suitable for all investors. These risks are often heightened for investments in emerging markets.
* Yahoo! Finance is the source for any reference to the performance of an index between two specific periods.
* Opinions expressed are subject to change without notice and are not intended as investment advice or to predict future performance.
* Economic forecasts set forth may not develop as predicted and there can be no guarantee that strategies promoted will be successful.
* Past performance does not guarantee future results. Investing involves risk, including loss of principal.
* The foregoing information has been obtained from sources considered to be reliable, but we do not guarantee it is accurate or complete.
* There is no guarantee a diversified portfolio will enhance overall returns or outperform a non-diversified portfolio. Diversification does not protect against market risk.
* Asset allocation does not ensure a profit or protect against a loss.
* Consult your financial professional before making any investment decision.
* To unsubscribe from the Weekly Market Commentary please reply to this e-mail with "Unsubscribe" in the subject.
Investment advice offered through Research Financial Strategies, a registered investment advisor.