Some Scary Grains of Truth
The Pain …
Perhaps we need to brace ourselves.
A slew of reputable sources are painting bleak pictures. Not just of the U.S. economy. But of the global economy. Pain peeks just over the horizon.
Bloomberg pulls no punches:
Global food prices are surging at the fastest pace ever as the war in Ukraine chokes crop supplies, piling more inflationary pain on consumers and worsening a global hunger crisis.[1]
In Ukraine, there's the Black Sea Breadbasket Region. "Ukraine exports over 50 million metric tons of corn and wheat to the world, and Ukrainian farmers would normally be planting crops right now. With Putin's invasion, that is unlikely to happen."[2]
A photo in The Times of Israel shows what's at stake.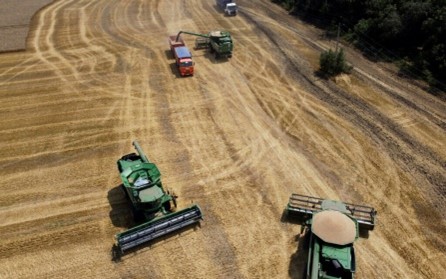 "Farmers harvest with their combines in a wheat field near the village Tbilisskaya, Russia, July 21, 2021. (AP Photo/Vitaly Timkiv, File)."[3]
As Russian troops invaded Ukraine, breadbasket farmers were forced to neglect their bountiful fields; they had to fight or flee. The Ukrainian government announced that men 18 and older had to remain and take up arms. So farmers had to put get off their tractors and put down their scythes and sickles.
The war has thus upended "global trade flows and [has] fuel[ed] panic about shortages of key staples such as wheat and cooking oils. That's sent food prices— which were already surging before the conflict started—to a record, with a United Nations' index of world costs soaring another 13% last month."[4]
And it's not just food prices that are soaring. The inflation report of April 12 should put a pit in all our stomachs.
Inflation rose at the fastest pace in 40 years  in March as consumer prices jumped 8.5%

The consumer price index leaped 8.5% annually, the fastest pace since December 1981, the Labor Department said on Tuesday, likely cementing Federal Reserve plans for an unusually large half-point interest rate hike early next month. That increase is up from 7.9% in February and inflation now has notched new 40-year highs for five straight months.

Prices rose 1.2% from their February level, the sharpest monthly increase since September 2005. [5]
It goes without saying: The stock market does not like huge inflation numbers.
… Of No Gains
There's pain ahead.
Russia has blockaded the Black Sea, so the strain on the global economy goes beyond food shortages.

Putin's blockade in the Black Sea is an act of economic warfare against the world. Any shipping restrictions in the Black Sea will not only slow trade but will also make it more expensive. Countries in the Middle East and Africa rely on the Black Sea trade for critical supplies such as wheat. Even the U.S. relies on Black Sea trade to export more than $130 million of poultry products to Central Asia and other countries in the region.[6]
… Stays Mainly
Sunflowers also suffer. Who cares about sunflowers?
Sunflower oil is a key ingredient in all sorts of foods. Ukraine provides nearly half the world's supply of sunflower oil. Russia's invasion has set the sunflower oil industry in turmoil.
Thousands of items, also including ready meals and even wrapping paper, use sunflower oil. Prices are surging and the ingredient will only become more scarce from the summer as Ukrainian farmers may struggle to grow and export the crop. [7]
Companies like Martin's Snacks that rely on sunflower oil will be particularly vulnerable. Ukraine is the largest exporter of sunflower oil in the world, responsible for up to 46% of sunflower-seed and safflower oil production, according to the Observatory of Economic Complexity. The second largest producer is Russia, which exports about 23% of the world's supply.
Sunflower oil is now $1.28 per pound, versus the $0.60 it cost in September 2020. [8]
…In the Grain
But grain remains the key. Wheat and corn. The staples of the world.
According to Bloomberg;
Russia's invasion has caused a humanitarian disaster in Ukraine and disrupted trade in foods across the world, sending wheat and corn prices to the highest in a decade. Ukraine is a key supplier of grains to countries in the Middle East. Meat prices are also under pressure as the cost of the feed used for cattle and pigs rises. 
The two countries are key players in certain major global industries, like computer chips, sunflower oil, grains, petroleum, and wood. Together, they account for more than a quarter of global wheat exports. Ukraine produces somewhere around 70-90% of the world's neon gas, which is a vital component of the microchips used to manufacture smartphone and computer screens. Russia is responsible for 13% of the world's crude petroleum exports, which means anything that requires transportation at any stage of production—almost everything—will be impacted. Penfield predicts inflation may hit 11% by the end of the year.9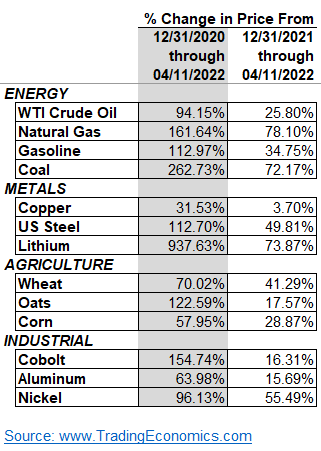 The Pain of No Gains Stays Mainly in the Grain
Investors, brace yourselves. Don't expect assets to show any gains in 2022. The real challenges lie not in seeking gains but in avoiding gargantuan losses. We can't expect the disaster unfolding in Ukraine to cause just a blip in world stock markets. We might just see lots of red in charts with arrows pointing only in one direction: down.
Avoiding the Pain of Losses
Here at Research Financial Strategies we will turn all our analysis and energies toward preserving the capital of our clients.
The RFS strategy of concentrating in three themes in energy, oil and natural gas; commodities, food, groceries, wheat, corn, sunflower seeds, etc.; and metals and mining, aluminum, steel, copper, lithium, platinum, palladium, uranium, etc., have all paid off recently.
No gains certainly cause pain. But that's nothing like the pain of losses.
As always, we encourage you to pass this email along to family and friends. We would welcome the opportunity to help them preserve their hard-earned assets.
How Are Your Investments Doing Lately?  Receive A Free, No-Obligation 2nd Opinion On Your Investment Portfolio >
Most Popular Financial Stories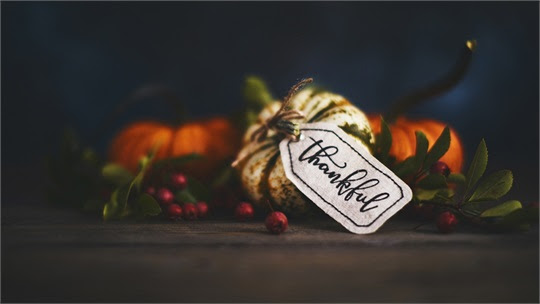 Thanksgiving is almost here: a time to enjoy friends, family, great food, and maybe a whole lot of football. As we give thanks for what we have received and celebrate the...
read more
Investment advice offered through Research Financial Strategies, a registered investment advisor.
* This newsletter and commentary expressed should not be construed as investment advice.
* Government bonds and Treasury Bills are guaranteed by the U.S. government as to the timely payment of principal and interest and, if held to maturity, offer a fixed rate of return and fixed principal value.  However, the value of fund shares is not guaranteed and will fluctuate.
* Corporate bonds are considered higher risk than government bonds but normally offer a higher yield and are subject to market, interest rate and credit risk as well as additional risks based on the quality of issuer coupon rate, price, yield, maturity, and redemption features.
* The Standard & Poor's 500 (S&P 500) is an unmanaged group of securities considered to be representative of the stock market in general. You cannot invest directly in this index.
* All indexes referenced are unmanaged. The volatility of indexes could be materially different from that of a client's portfolio. Unmanaged index returns do not reflect fees, expenses, or sales charges. Index performance is not indicative of the performance of any investment. You cannot invest directly in an index.
* The Dow Jones Global ex-U.S. Index covers approximately 95% of the market capitalization of the 45 developed and emerging countries included in the Index.
* The 10-year Treasury Note represents debt owed by the United States Treasury to the public. Since the U.S. Government is seen as a risk-free borrower, investors use the 10-year Treasury Note as a benchmark for the long-term bond market.
* Gold represents the afternoon gold price as reported by the London Bullion Market Association. The gold price is set twice daily by the London Gold Fixing Company at 10:30 and 15:00 and is expressed in U.S. dollars per fine troy ounce.
* The Bloomberg Commodity Index is designed to be a highly liquid and diversified benchmark for the commodity futures market. The Index is composed of futures contracts on 19 physical commodities and was launched on July 14, 1998.
* The DJ Equity All REIT Total Return Index measures the total return performance of the equity subcategory of the Real Estate Investment Trust (REIT) industry as calculated by Dow Jones.
* The Dow Jones Industrial Average (DJIA), commonly known as "The Dow," is an index representing 30 stock of companies maintained and reviewed by the editors of The Wall Street Journal.
* The NASDAQ Composite is an unmanaged index of securities traded on the NASDAQ system.
* International investing involves special risks such as currency fluctuation and political instability and may not be suitable for all investors. These risks are often heightened for investments in emerging markets.
* Yahoo! Finance is the source for any reference to the performance of an index between two specific periods.
* Opinions expressed are subject to change without notice and are not intended as investment advice or to predict future performance.
* Economic forecasts set forth may not develop as predicted and there can be no guarantee that strategies promoted will be successful.
* Past performance does not guarantee future results. Investing involves risk, including loss of principal.
* The foregoing information has been obtained from sources considered to be reliable, but we do not guarantee it is accurate or complete.
* There is no guarantee a diversified portfolio will enhance overall returns or outperform a non-diversified portfolio. Diversification does not protect against market risk.
* Asset allocation does not ensure a profit or protect against a loss.
* Consult your financial professional before making any investment decision.
* To unsubscribe from the Weekly Market Commentary please reply to this e-mail with "Unsubscribe" in the subject.